Henrik Grimmson - Storm Hawks Mercenary
Edit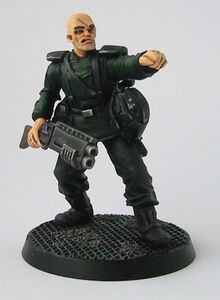 Name: Henrik Grimmson Age: 51 Place of Birth: Gustan II Serivce Record:
M40.960 - Conscripted as Gun Crew aboard 'Spear of Light'
M40.966 - Promoted to Armsman
M40.970 - Promoted to Bosun
M40.976 - Transferred to Naval Security
M40.980 - Disciplined for violent conduct
M40.980 - Demoted back to Armsman
M40.983 - Transfered back to Naval Security
M40.985 - Retained by Inquisitor Kaled
M40.986 - Founding of the Storm Hawk Mercenaries
Ad blocker interference detected!
Wikia is a free-to-use site that makes money from advertising. We have a modified experience for viewers using ad blockers

Wikia is not accessible if you've made further modifications. Remove the custom ad blocker rule(s) and the page will load as expected.