Eliza Torres - Storm Hawks Mercenary
Edit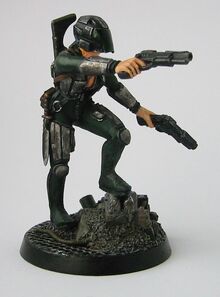 Name: Eliza Torres  Age: 33  Place of Birth: Teluga Prime Serivce Record:
M40.979 - Enlisted in the Teluga PDF
M40.983 - Drafted into Imperial Guard Telugan 9th Light Infantry Regiment
M40.986 - Promoted to Corporal
M40.988 - Awarded Terran Cross for Bravery
M40.990 - Trained as Valkyrie Pilot
M40.991 - Transferred to Telugan 12th Drop Regiment
M40.992 - Awarded Imperial Star for Valour
M40.994 - Inducted into The Storm Hawks
Ad blocker interference detected!
Wikia is a free-to-use site that makes money from advertising. We have a modified experience for viewers using ad blockers

Wikia is not accessible if you've made further modifications. Remove the custom ad blocker rule(s) and the page will load as expected.